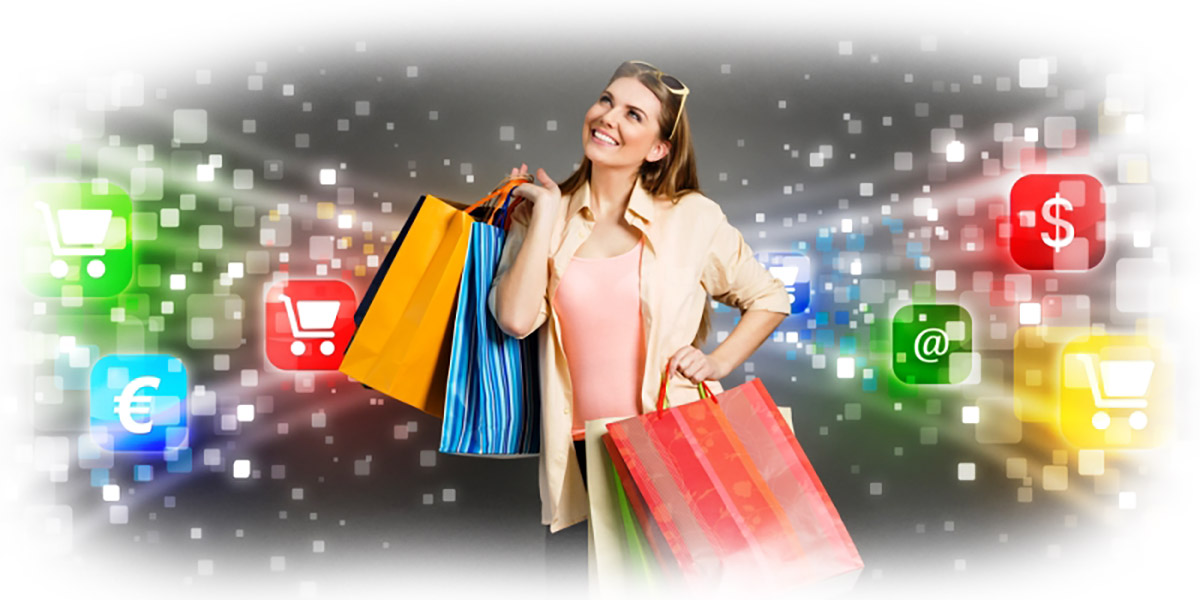 If your company sells goods in a brick-and-mortar store but not online, you could be missing out on an incredible revenue-generating opportunity.UK online spending rises by 16% to £130bn in 2016, and £25bn over Christmas between 13th November and 24the December, according to IMRG. The increasing turnover in online shopping in 2016 was a result of 47% growth of sales made on smartphones.In 2016, almost sectors of online shopping went through a growth process:

| | |
| --- | --- |
| Industry | Growth rate (in %) |
| accessories and lingerie | 38% and 33% |
| gifts | 26% |
| footwear | up 21% |
| online sales | 3% |
In the year 2017, the online shopping industry is expected to grow by 14%. In the year 2015, online shopping was mostly used by consumers between 35-44 years. The reasons vary from the cheaper priced products to saving valuable time. In 2016 the total online shopping sales across the world reached $22.049 trillion, which is a growth of 6% from the year 2015. In 2020 online sales will increase up to $27 trillion.
The online retail sector is the main driver of growth in European and North American retailing, achieving in Europe growth rates of 18.4% (in 2014), 18.6% (2015) and expected rates in 2016 of 16.7% and in 2017, 15.7%. In comparison by the annual growth rates for all types of the retailing range between 1.5% and 3.5% pa.
The recession has induced many shoppers to buy online rather from traditional stores. The fact that internet search is comparatively easy and predictable has made online retailing very attractive for a wide range of products. Retail focus on the growing use of mobile technology is an additional factor in making online retailing attractive and convenient.
As before the European online market is dominated by the UK, Germany, and France which together are responsible for 81.5% of European sales in these eight countries.
Market Shares:
Apart from the UK and Germany, market shares have been comparatively low in most European countries until 2015. The European mean was 7.2% in 2014, 8.4% last year and is expected to reach 9.4% in 2016. The UK online share was around 9.4% in 2010 (and now it is 16.8%), so the growth rate in Europe has been comparatively rapid. The countries with the highest online shares of their internal markets are:
the UK (16.8% forecast for 2016);

Germany (13.5% for 2016);

and France (9.4% in 2016).
Other countries with high market shares are Sweden and The Netherlands. Germany has had the fastest-growing online sector for the last few years, but this year its 18.3% forecast growth will be just pipped by Spain (18.8%).
In previous surveys, the CRR argued that the very rapid growth of the smaller e-commerce countries then occurring compared with the slower growth in the larger countries meant that the smaller countries would have caught up in the next four or five years. From the vantage point of 2016, this now looks unlikely as the gap between the larger e-commerce countries and the smaller ones is not diminishing. However there is no doubt that most of the countries surveyed will achieve online market shares of at least 18%, the only question is the timescale and no longer whether it will occur.
Is your business ready to reap some of those online sales?
Launching an online store can be challenging for small businesses, which are often short on time, budget and staff. But B&F digital marketing team can help you make designing and maintaining an online store relatively simple and affordable.
For most people, the thought of writing a business plan brings up painful memories of past homework assignments and many online store owners view them as something only "real world" businesses and Silicon Valley start-ups need.
And let's face it, there's all that fun marketing stuff you could be doing like taking product photos, writing blog posts and opening social media accounts. But the truth is, the fun stuff will only be meaningful if you build your business on a strong foundation. And that's where writing a simple business plan comes in. Whether you're an established or start-up business, it's important to have the plan to help you achieve your goals. In B&F Services we are a professional business plan writers.
When writing your business plan, we become collaborators with you to convey your company's vision clearly and to describe and illustrate its expected financial performance. We combine our experience in finance and market research to create a winning business plan for a hard-sell audience of investors, venture capitalists, and bank loan officers.
Your advantages with us:
Consultants with over 10 years' experience and market know-how across a wide range of industries
Decades of experience in projecting financial performance and growth of business all from one hand:
Consulting and Coaching
Professional Business Plans
Business Establishment and Accountancy
Comprehensive Software solution
"save time and get experience"
Over 3,176 established businesses in the UK<
Over 1,756 completed business plans
485 completed Tier 1 visa business plans
96% secured funding based on our business plans
£55 mil. raised for SME`s
Would you like to start your journey to a successful business with a professional business plan?
Start here